A Dior haute couture show in the gardens of the Rodin Museum is as Parisian as fashion is. But this season, designer Maria Grazia Chiuri's heart was in India.
"There is an idea that Indian embroidery is something cheap," Chiuri said before the show. "We talk a lot about the incredible workshops we have here on Avenue Montaigne.
"But Indian artisans do embroidery with exactly the same knowledge, skill and depth of tradition as embroidery in France and Italy. This excellence is not only ours.
The clothing on the catwalk was deliberately simple. The high-breasted, double-breasted Bar jackets that Chiuri has made central to his Dior aesthetic have been crafted from off-white wool. In matte black Moroccan silk crepe for the day or in fine silver lamé for the evening, the dresses are sleek and flowing like nightgowns.
This diverted the spotlight from the clothes to the vast tapestries that decorated the performance hall, which constitute a retrospective of the work of two Indian artists, Madhvi and Manu Parekh, carried out in embroidery by the Chanakya Handicraft School in Mumbai.
Karishma Swali, the school's principal, described the installation, which will be open to the public until January 30, as "both an art gallery and a celebration of the bond between artists and artisans".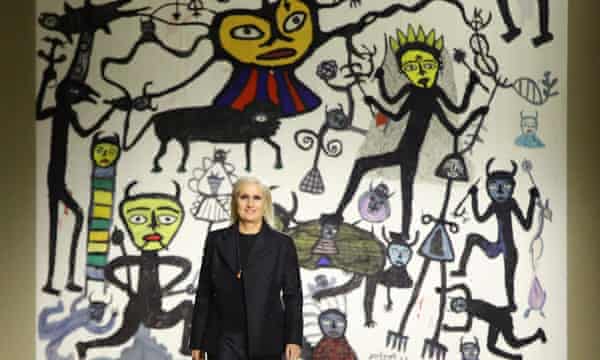 The work of Madhvi Parekh is inspired by folk art, village crafts and symbols of feminine energy, while that of her husband, Manu, leans towards modernism and abstraction. The show marks a first collaboration with a male artist for Chiuri, who has partnered with female artists across different media for many past Dior collections.
Chiuri has worked with Swali and her workshops since 1995, when she designed for Fendi.
"Being a fashion brand today comes with the responsibility to support the fashion community around the world," she said, adding that this responsibility has intensified with the damage done to many livelihoods by Covid.
"We share a bond, because in Italy, where I come from, and in India, there is a generational problem of know-how that is disappearing. Families push their children towards studies, or towards professions like becoming a doctor, because in fashion we talk too much about the designer who makes the sketch and not enough about all the other important professions.
While Bombay craftsmen spent 200,000 hours creating the giant tapestries in organic vegetable yarns, Chiuri preoccupied himself with crystal-embroidered socks and shoes with fully embroidered heels. "You think it's just a sock, but the embroidery is very delicate," she said.