By Pat Eby Special for the Post-Dispatch

In 1994, Sharon Jackman gave her 10-year-old granddaughter, Maggie, a needle, embroidery floss, a hoop and enough quilt squares to make a quilt. When Maggie finished embroidering the squares, she and her grandmother went to the fabric store to pick out the fabrics to put the squares together.
"My grandmother's friends quilt it, and I still have that quilt," says Maggie Jackman. "I've always dabbled in craftsmanship, but I didn't take up embroidery again until I was 22. I made and sold dog bandanas, candles, and embroidered pillowcases during my college years. When I wanted to embroider a specific design, I created my own design and sewed it into a hoop. My business started in college.
"I changed universities and majors so many times – photography, studio art, interior design. I finally got my degree in business management from Webster University, which did well.
Thread the needle • Jackman's college experiences in the art field served her well when she got into crafting full-time. Her up-to-the-minute designs for hoop embroideries fit well into the home decor and gift markets she has cultivated at art fairs. Within five years of earning her business degree, she turned her business into a full-time job that she works every day.
One stitch at a time • She designs her popular embroidered hoops as collections, each inspired by a lifelong love of the outdoors, the environment, animals and gardens. Her parents roamed the woods and mountains, gardened, and instilled a love of nature in all of her creations in Maggie and her sister, Mollie.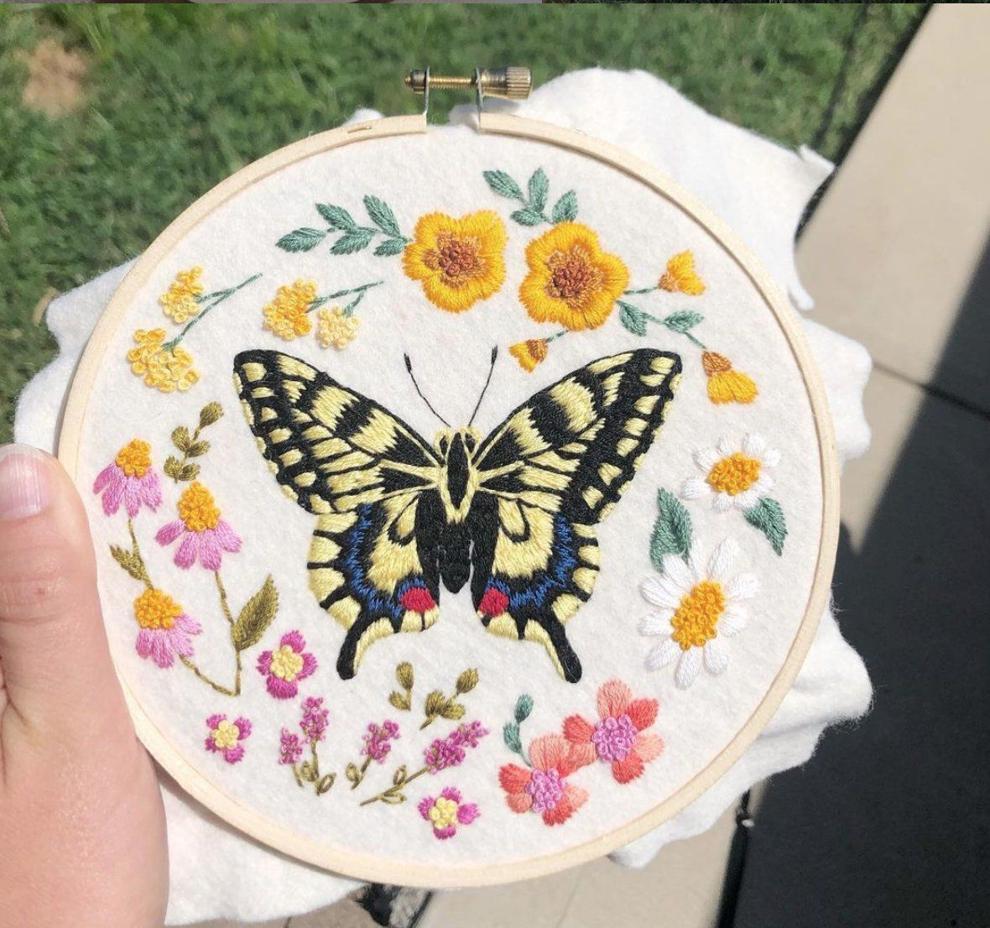 The butterflies she works in colorful embroidery, their wing shapes and distinct, clear markings, are modeled after visitors to her own garden. When she stitched her ever-popular Zodiac collection, each sign had an accurate representation of its constellation in the artwork.
embroider me that • In addition to designs for collections, Jackman produces custom embroideries to celebrate important life events — engagements, weddings, births, special anniversaries. "I often work from photos for these pieces," she says. She sewed a hoop with a happy couple standing against the backdrop of mountains, the date embroidered at the bottom, using this method.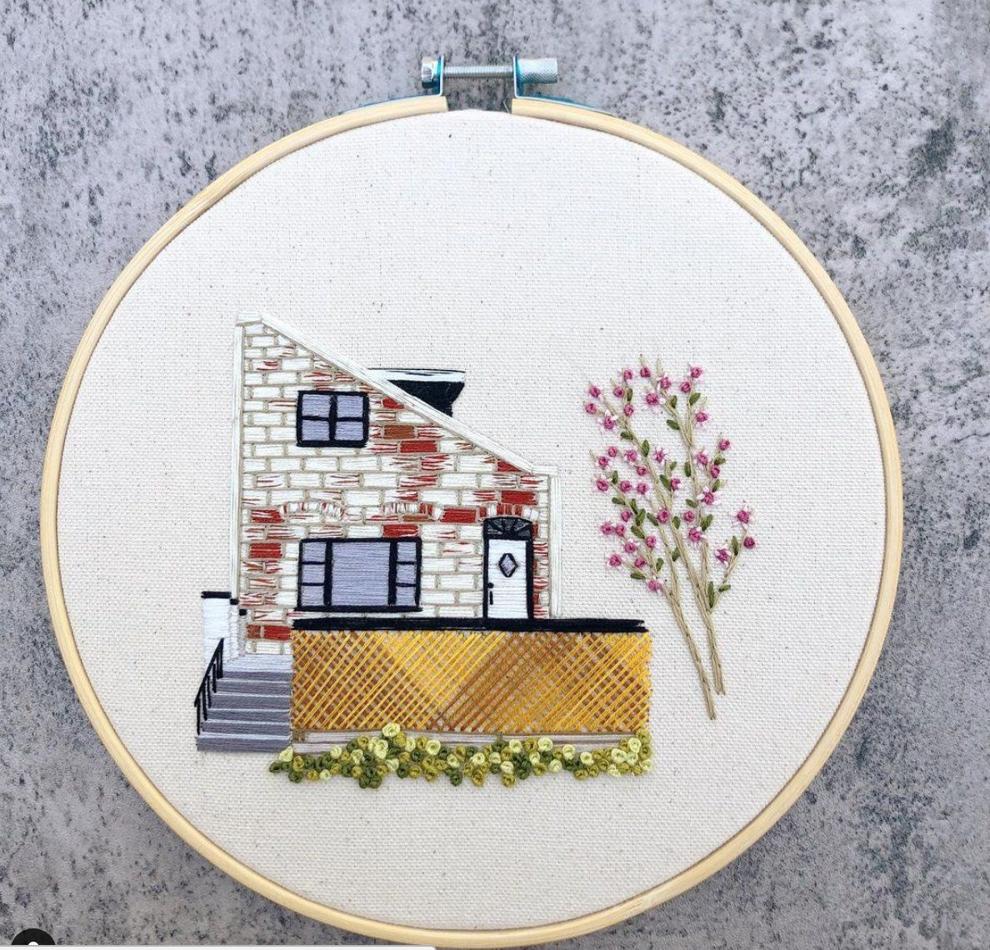 Home sweet home, beautiful living dogs and cats • House portraits and pet portraits make up the bulk of Jackman's custom work. Her home embroideries are not folkloric, they are stitch-drawn houses, bricks, roofs, windows and gardens rendered in subtle colors and fine detail. Whether celebrating a new purchase or marking a move from a beloved home, portraits are treasured pieces. She does a number of house portraits a year. "I announce my 'opening and closing' times for home portraits on Instagram," she says. His active Instagram account, STL artifact, also gives information about his upcoming shows.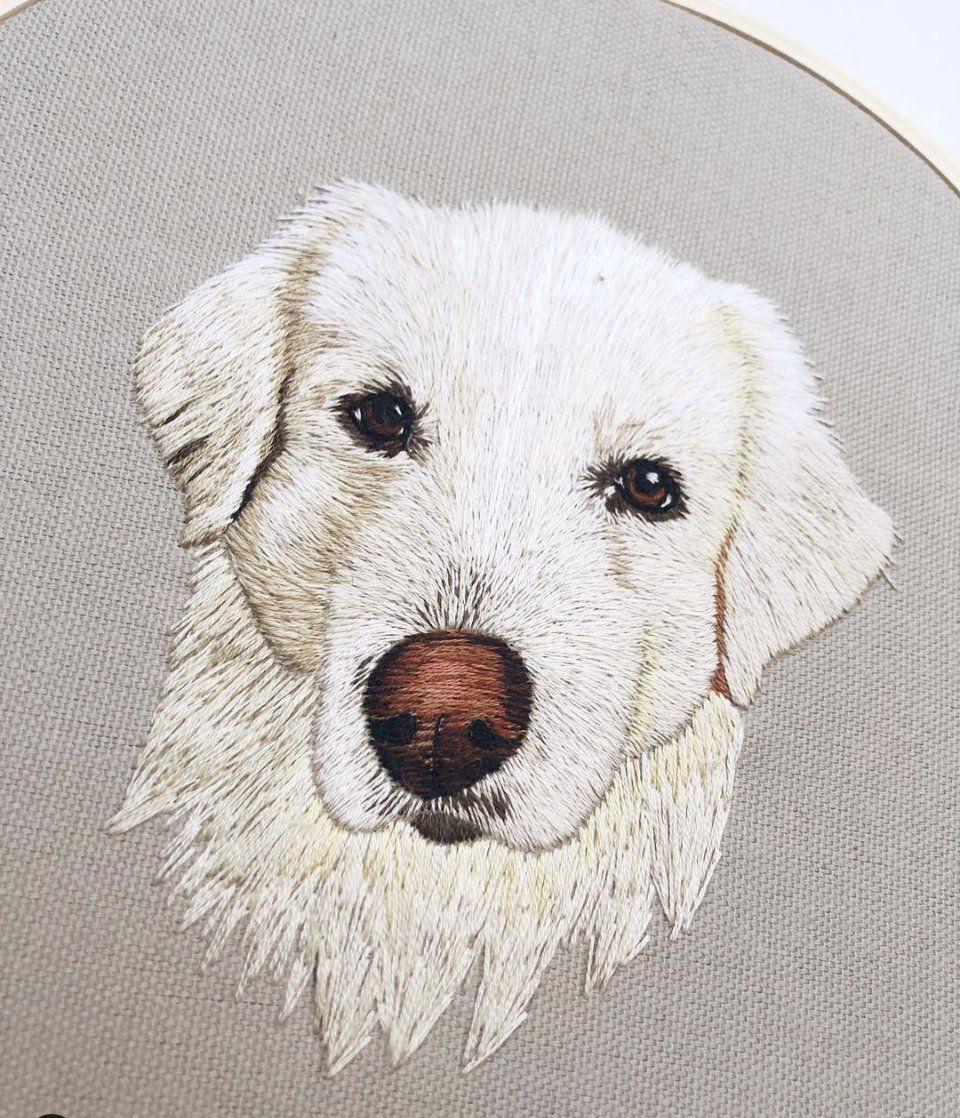 His love of pets shows in his well-drawn stitched likenesses of furry companions. She sews fine fur, glowing eyes and noses that almost quiver into her personalized pet hoops. Like the house portraits, these are all personalized. Her pet, handsome Charlie, has been her companion in outdoor adventures and studio work for eight years.
Meet me in the evergreens • Jackman's lovely stitched rendering of tall pine trees in the forest on a dark moonlit night is one of his favorite pieces. "It reminds me of the hikes we used to do when we were younger in the woods at night, and my grandfather, who rides with us and names all the trees," she says.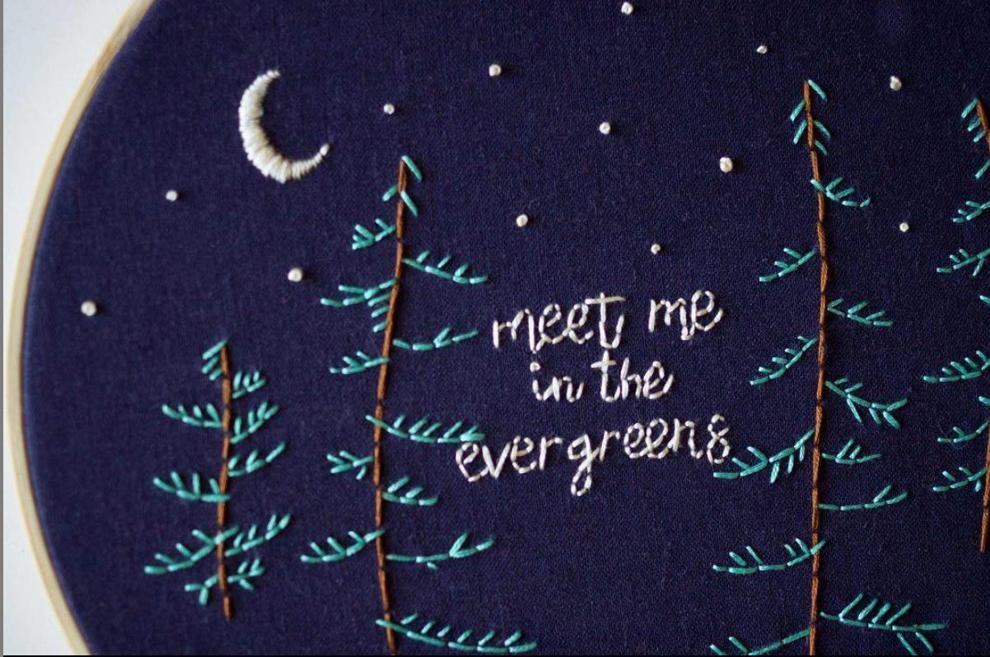 On and off the loom • In addition to embroidery, Jackman weaves and punches textiles that have sensibilities of landscapes, rocks, or layers of sediment in the patterns. Jackman uses texture and loft in his weaves, the prominent and distinct yarns, some tightly coiled, others spun in coarse rovings.
"I have so many ideas in my head that I often work in several styles and on different collections at the same time," she says. "I love meeting people at trade shows and I also answer inquiries on my Instagram. My mom really helps me with the shows. My goal is to eventually have a brick and mortar shop that also features other local artists.
Family • Jackman's parents, Jon and Julie Jackman, instilled a love of the outdoors in Maggie and her older sister, Mollie. Jackman lives with Charlie, an Australian Shepherd who has been his companion for eight years.
What she makes • Jackman is a self-taught fiber artist whose works include original embroideries, weaves and punch needle art. It produces patches to be sewn on personal clothing as well as art and home decor items.
House • O'Fallon, Missouri
Or buy • Jackman sells in local markets as well as online and through its website, artifactstl.com.
How much • Jackman's sew-on patches range from $15 to $20; her needlework and weaving from $50 to $75. His custom home and pet portraits are between $250 and $350.