Correction: The original version of this article misspelled Sara Jahangiri's name.
This post was updated on July 5 at 7:38 p.m.
Jane Ni and Ruby Ciervo untangle artistic stereotypes.
Among all the creative ways the two students could have expressed themselves during the pandemic, fourth-year Human Biology and Society student Jane Ni and fourth-year Civil and Environmental Engineering student Ruby Ciervo landed on knitting. . What started out as trying out a simple model for fun quickly became the two students' favorite way to pass the time and break the monotony of online school. Since discovering their love for fiber arts, Ni said they have created a plethora of clothing items and launched a Instagram account to showcase their creations and inspire others.
"You start with this ball of yarn, and it turns into something you can wear or a friend can wear, and that means a lot and it took a long time," Ciervo said. "There's a lot of love in there."
Ni said she learned to knit when she was very young, but got back into it when she started seeing knitting videos on TikTok. As for Ciervo, she said she started knitting at Ni's instigation and was soon ordering yarn and commercial patterns alongside her friend. The idea to launch a joint online platform came from other people sharing their creations on social media, Ni said.
"We both wanted to have an Instagram or something just to keep track of what we had been up to and be able to show off to our friends who don't live near us," Ciervo said.
[Related: Business is blooming for alumna's personalized flower balloon company]
Ni said the account name, @hotgirlsknit, was inspired by Megan Thee Stallion and her popularization of the term "hot girl" in her recent music. The story also indicates that knitting isn't just for grandmas, Ni said. Along with dismantling that stigma, she said the account also provided a creative outlet for her and Ciervo. The main reason the two students enjoy knitting shares a common thread: They both enjoy the mindless and methodical nature of the activity, Ni said.
"Especially for me, I was very anxious because it was 40s. So it's really grounded, and it's nice to be able to do stuff again," Ni said. is good because knitting most of the time is just doing the same thing over and over again, so it's really methodical. So you can do it during meetings or during classes, which makes zooms more entertaining. »
For Ciervo, the practicality of knitting is another appealing factor, as she and Ni only create clothes they'll wear and try to post clothes they've worn multiple times. She said she was always interested in fashion when she was younger and her hobby of knitting allowed her to design clothes on a small scale. In addition to creating clothes for herself, she said she has made pieces as gifts for her friends.
Ni said she and Ciervo's friends and community responded positively to the account. Their former roommate, alum Sara Jahangiri, said the way the two students brand themselves stays true to their down-to-earth personalities and has encouraged creativity in other Bruins and organizations on campus.
"Because they're both so involved (on campus)…that's definitely something they've brought to these organizations," Jahangiri said. "Now that they'll be in person, they'll have a greater opportunity to introduce (knitting) to other people and maybe make it a part of social and pre-existing events."
In addition to using knitting as a social icebreaker, Jahangiri said her friends are interested in on-campus sustainability, which helps crafts better align with their values. She said she views their hobby of knitting as a positive contribution to the slow fashion movement. Seeing Ciervo and Ni knit clothes that express their sense of style made her realize that knitting isn't just about blankets and sweaters, Jahangiri said.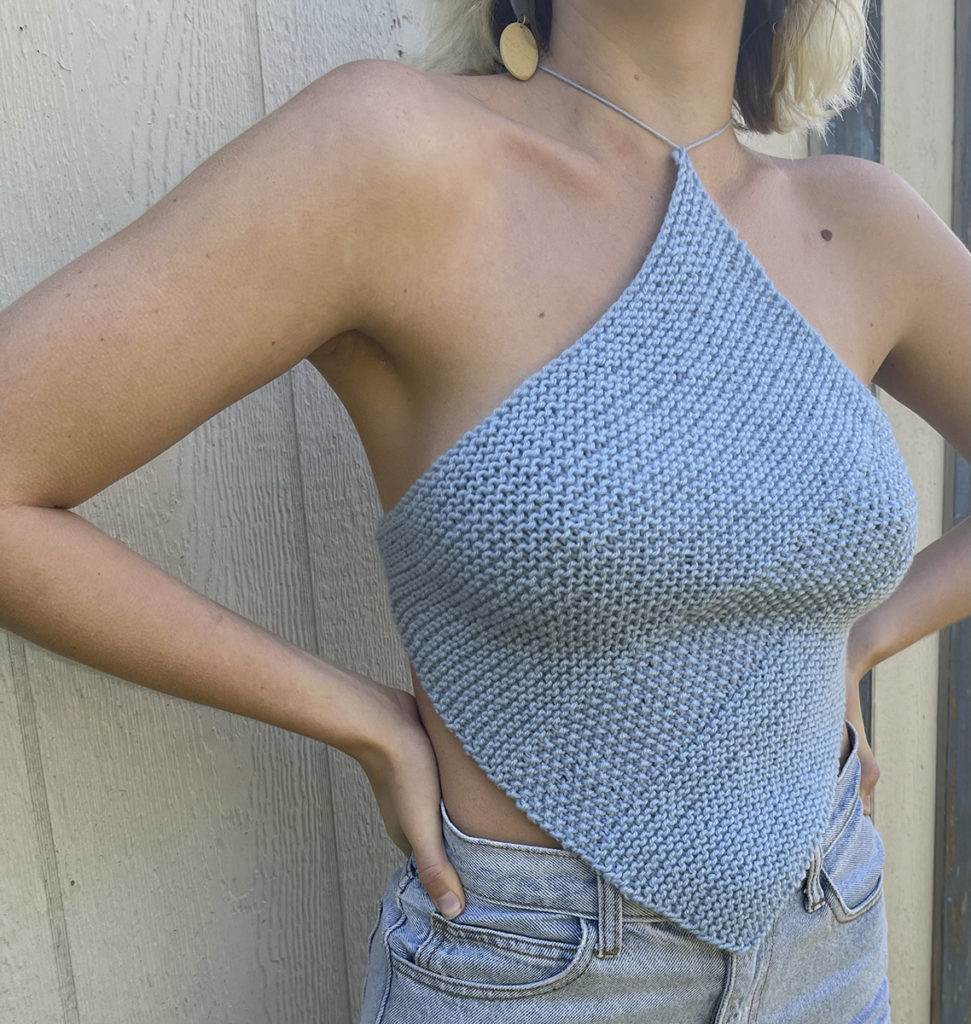 [Related: Student launches sustainable jewelry business using repurposed materials]
Although Ni and Ciervo decided to post their projects online, Ni said they wanted to enjoy knitting as a personal hobby and didn't want their passion to change because of social media. For Ciervo, the creation of the account did not change his relationship with the art form. Ni said they weren't pressuring themselves to change the account at the expense of their enjoyment.
"We're kind of not a super aesthetic account," Ni said. "It was important for us to create the account, it didn't become a pressure to want to make an Instagram enjoyable."
Ciervo said they also don't plan to sell any of their designs, but would gladly help anyone with questions about the designs or send notes about their designs. She said the two received significant support from other knitting accounts when they started, so they hope to relay that generosity.
"It's just cool to see so many people creating things that are literally out of string that people can wear," Ciervo said. "It's beautiful – I love it."